December 21, 2018 – New York, New York
Rare Whisky 101 bills itself as, "the first and only company to publish an extensive range of insight and intelligence to the whisky collector and investor." Founded in Scotland in 2014 as a valuation, brokerage and consultancy service for whisky collectors, Rare Whisky 101 has complied a data base that encompasses 40,000 different labels along with over a quarter of a million price records of single malt Scotch and Japanese whisky.
After analyses of a sampling of the world's most expensively priced bottles of single malt scotches by Scottish Universities Environmental Research Centre (SUERC) laboratory in East Kilbride, under the Director Fin Stuart, it is now believed that the collectible scotch whisky inventory is infiltrated with a large amount of fakes.
According to an article written by Jack Schofield for the Telegraph, the radiocarbon analyses of rare whiskies, some valued as much as six figures showed that over one third falsified the age of purity, indicating that the contents of the bottle did not match the distillation date on the bottle. After testing 55 rare bottles of scotch and whisky, 21 were determined to be fakes. According to the reporting of Mr. Schofield, an entire private collection valued at over £50,000 was deemed fraudulent after testing by the Scottish researchers.
Mr. Andy Simpson from Rare Whisky 101 was quoted by Jack Schofield writing for the Telegraph, "Our stance now on pre-1900 single malt whisky is to assume that it is fake until proven to be genuine." He advised buyers of rare scotch and whisky to, "Do a simple image search of the bottles and labels. If they don't match, that should ring alarm bells."
Fin Stuart, Director of SUERC vouched for the science behind dating the contents of scotch and whisky bottles. In a quote published by the Telegraph in the Jack Schofield article, Fin Stuart noted, ""We have known for many years that radiocarbon is a fantastic forensic tool. Isotope techniques have long been used to tell the provenance of food, but now we can tell the age."
Although it may cost a few hundred pounds to test a single bottle, it is a minimal price compared to the selling prices of these coveted collectible liquors, with single bottles selling for as high as £1.2 million.
Sampling of the world's most expensively priced bottles of #singlemalt #scotch and #whisky finds inventory is infiltrated with a large amount of fakes.
Also taking note of the study by the Scottish Universities Environmental Research Centre (SUERC) in an article written by Forbes was famed food fraud author Larry Olmsted. Noting that after his extensive research while writing his New York Times Bestseller, Real Food, Fake Food, Why You Don't What You're Eating & What You Can Do About It, he is not at all surprised by the research results. In writing his book on food fraud, Mr. Olmsted notes that he has seen it all including fake champagne, as well as fake collectible wines.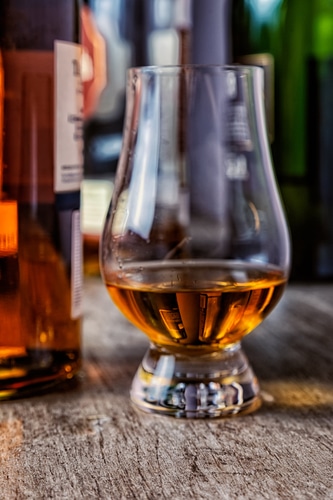 In his coverage of the research that revealed fake scotch in numbers upward of 1/3 of the bottles traded, Mr. Olmstead stated that he is not at all surprised. He noted that on the fraudulent food front the New York State Attorney General's Office recently released a report on the preponderance of food fraud in the seafood industry. That report states that, "huge quantities of fish remain illegally mislabeled at retail – with popular and valuable species, the amount that is fake is sometimes more than 90%." According to the Forbes article penned by Mt. Olmstead.
Larry Olmstead delves into the research performed by SUREC to reveal that, "the older and more collectible and valuable the whiskey was, the faker it was. In fact, every single bottle – 100% – of malt whiskies purporting to be from around 1900 or earlier were fake. The 21 imposters would be worth an estimated potentially worth around $804,000 including one bottle worth $190,000."
The average reader will never have to worry that the $190,000 bottle of scotch that they just bought is fake. The problem is that as consumers, we do buy the $25 bottle of scotch, the $40 bottle of whisky and now must be aware that fake scotch is not only a problem for the wealthy, it is everywhere.
Mr. Olmstead states in his article for Forbes that while researching his book, Real Food, Fake Food, Why You Don't What You're Eating & What You Can Do About It, he encountered fake cheese, fake olive oil, and even fake tomatoes.
Over the years SafeProof.org has reported on the fake scotch, counterfeit wine, dubious vodka, and every form of bad booze being produced around the world by nefarious individuals, organized gangs and criminal enterprises in search of quick profit. Although the stakes and profits are higher per bottle in the collectible markets, consumers should be aware that there is profit in volume in the fake alcohol industry. No country is immune from the reach of the fake alcohol industry.
SafeProof.org is a consumer advocacy group, funded through donations from concerned individuals, industry groups and alcohol brands. The goal of SafeProof.org is to raise awareness about the prevalence of counterfeit alcohol throughout the world. Our Alcohol Articles highlight alcohol related stories using worldwide news outlets and official government sources. Report any illicit alcohol activity to us using our secure form or by calling 1 (833) SAFE-TIP To get the latest Alcohol Alerts and violation updates in your area Sign-up for SafeProof.org emails and follow us on Twitter @SafeProof also on Instagram @SafeProof