August 15, 2018 – Jersey City, NJ USA
Putting international politics aside the recent tariffs on USA alcohol exports will create one certain outcome: Fuel Counterfeit Alcohol Production. Supply, demand and pricing economics is no different for illicit products. This summers trade war with the European Union had already caused concern from Brown-Forman the maker of Jack Daniel's Whiskey. Brown-Forman estimated that prices for Jack Daniel's could rise by 10% by the end of summer as existing inventory sells and the tariff's kick in.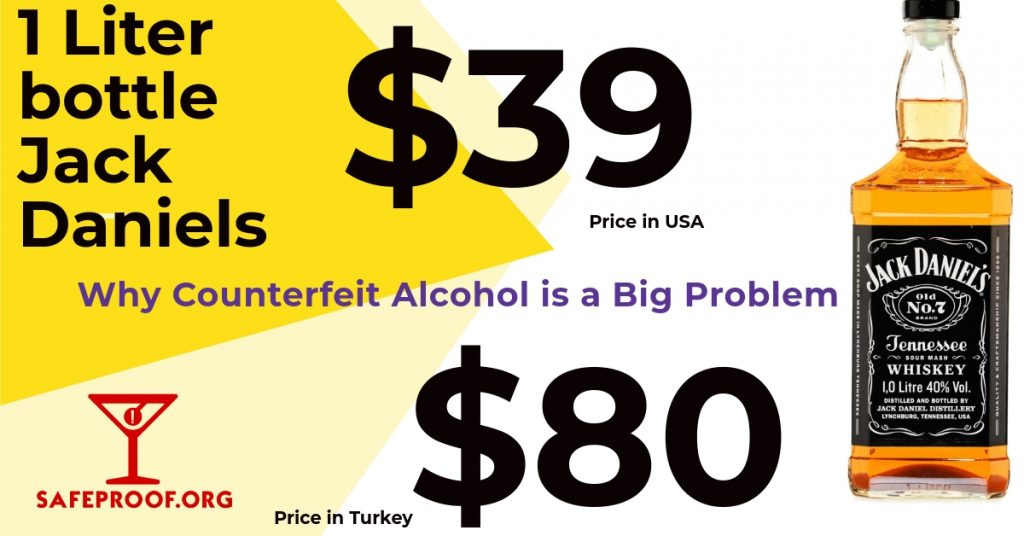 Today the Turkish government imposed an increase for their USA alcohol imports from 70% to 140%. This effective doubling of the import tariff is in response to the Trump administrations economic sanctions on Ankara. Using Jack Daniel's as an example this would bring a 1 liter bottle of the whisky to around $80.
Counterfeit alcohol producers rely on Price, Availability and Accessibility. Liquor tariffs are increasing the demand for counterfeit alcohol used by not only individual consumers but also at retail locations like bars, restaurants, clubs, hotels, casinos… Commercial locations must maintain their top shelf spirits and as prices increase illegal and illicit practices like refilling, adulterating and using counterfeit bottles increases.
This poses a great public health concern. It is vital that consumers are aware of what they are drinking and always take time to notice the bottle it is being served in and the appearance of the label. It could be more then just a 'bad drink'. If you suspect you are being served a drink that is not authentic report it to SafeProof.org 
Tariffs on imported USA #liquor increase the demand for #Counterfeit #Alcohol
SafeProof.org is a consumer advocacy group, funded through donations from concerned individuals, industry groups and alcohol brands. The goal of SafeProof.org is to raise awareness about the prevalence of counterfeit alcohol throughout the world. Our Alcohol Articles highlight alcohol related stories using worldwide news outlets and official government sources. Report any illicit alcohol activity to us using our secure form or by calling (833) SAFE-TIP To get the latest Alcohol Alerts and violation updates in your area Sign-up for SafeProof.org emails and follow us on Twitter @SafeProof also on Instagram @SafeProof