Is Liquor Contamination Suspected?
June 24, 2019 – Santo Domingo, Dominican Republic
Hard Rock All-Inclusive Will No Longer Include Mini Bar Liquor
In an unusual move by the Hard Rock Hotel and Casino resort in Punta Cana announced that they will be removing in-room mini-bars from guest rooms. According to the statement the action was being taken in response to "guest feedback". No clarification of the guest feedback was offered.
A typical in-room mini-bar at the Hard Rock Hotel and Casino in Punta Cana and at resorts throughout the Dominican Republic consists of 4 large bottles of liquor, (brands vary), turned upside down with a faucet type dispenser at the bottom. Guests can pour themselves drinks at will during their stay while in their rooms.
Although no officials, including Dominican Republic Authorities, the FBI or the U.S. State Department have announced any anomalies with the liquor served on the islands, news outlets continue to report that unnamed sources are saying that unregulated alcohol is part of the investigation into the recent spate of publicized tourist deaths.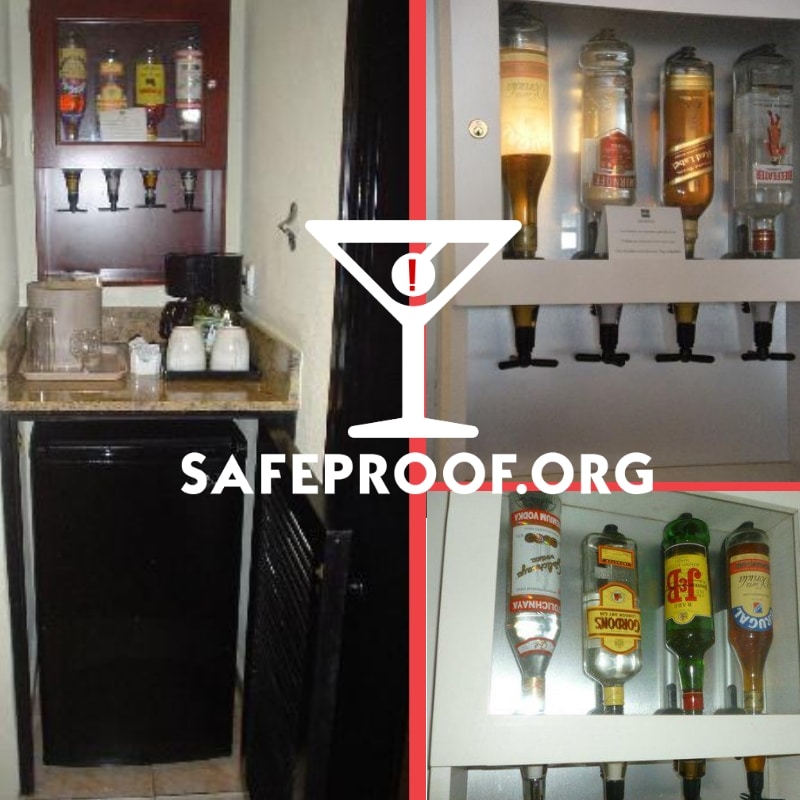 In their official statement announcing the removal of in-room bars, the Hard Rock detailed the measures that they take to ensure the quality of their liquor. "Only purchasing sealed and unopened products from licensed and reputable vendors with many years in the industry who follow the country's laws and offer top-shelf quality products." The Hard Rock offered no clarification into the source of their liquor or the laws that are followed by liquor distributors.
The Hard Rock does not cite the responsible agency in the Dominican Republic that oversees liquor importation, liquor distribution, and liquor licensing at the retail level. They also did not offer any inspection reports from a regulating government authority.
Largest Tax Fraud Case in Dominican Republic History Included Liquor Distributors
In a recent tax fraud case prosecuted by DGII's lawyer Francisco Álvarez, a Dominican Republic Conglomerate was charged and convicted of $186 million of tax evasion. Included in the companies that make up the conglomerate are liquor subsidiaries who supply the all-inclusive hotels.
During the prosecution of this case Mr. Alvarez commented, "executives acquired the companies to illegally distill alcoholic beverages from July 8, 2018 to January 31, 2019." At the conclusion of the case, the entire Dominican Republic alcohol tax stamp department was relieved of their duties.
Dominican Republic Tourism Minister Pushes Back
As reports of deaths at the resorts of the Dominican Republic continue, the Country's Tourism minister Francisco Javier García has expressed condolences to the families. During the minister's contentious press conference, on June 21, 2019, he expressed frustration that he has had to address the issue at two press conferences in 15 days.
Minister Garcia again stressed that the number of deaths among tourists in the Dominican Republic is not unusual. The Minister pointed out that in a country that welcomes 3.2 million tourists a year, 8 deaths over 6 months is not a significant statistic.
Mr. Garcia held up summaries of the autopsies for the press to see, although official reports were not released with the minister citing "privacy" concerns. The minister contends that the recent flood of reported tourists' deaths was from natural causes. The U.S. State Department issued a statement concurring with the minister's assessment. 
On the surface the conclusions of the Tourism Ministry of the Dominican Republic are realistic. It is not an anomaly that an overweight man or woman with previous health conditions spending a day in the sun can succumb to a heart attack. There is a realistic expectation that some of the over 15 reported Dominican Republic deaths that have made international headlines are from natural causes.
The problem and designation as "mysterious" or "suspicious" arise when the death involves an individual who is deemed relatively healthy and dies after consuming alcohol with a cause of death listed as pulmonary edema.
The two deaths that brought this story to the forefront are that of Nathaniel Holmes, age 63, and Cynthia Day, age 50, both found dead in their room after missing checkout. The autopsy results were the same, pulmonary edema. Two people with ages over a decade apart dying at the same time from the same causes, which were written off as "natural", is certainly suspicious and mysterious.
A couple of the recent stories by family members tell of pressure from the Dominican Republic to have the bodies cremated. A cremated body eliminates any chance of an independent review of the cause of death. Others claim they were told that a toxicology test could not be performed because the machine was broken. The FBI has announced that it is performing toxicology tests along with tests of a minibar in one of the victim's rooms.
Stories of Sickness Mingled with Questions about Death
The original story about Nathaniel Holmes and Cynthia Day opened the flood gates for others to come forward. Each story about a family member's death in the Dominican Republic is followed by another, who are now all questioning the official cause of death. Although stories go back to 2016, recently reported deaths include Vittorio Caruso, age 55, Joseph Allen, age 55 as well as Leyla Cox, 53. With these deaths as with others there is no conclusive proof that they drank alcohol or how much they drank.
A flood of stories is now being reported by people who claim to have become violently sick while on vacation at the Dominican Republic. Some were treated on the Island by Hotel doctors, others spent days in the hospital, while others say they are still being treated after returning home.
One would have to agree with the Minister of Tourism and the State Departments statements that a handful of deaths may be natural, however thousands of reports of sickness with perturbing symptoms are not natural.
Most travelers attribute their sickness to food poisoning as can be seen in reviews on TripAdvisor as well as reports on iwaspoisioned.com. Diarrhea, stomach pain and flu-like symptoms all can be attributed to food poisoning. Other more severe presentations such as convulsions, confusion, blurry vision and inhibited motor skills point towards poisoning.
SafeProof.org wants those publicly telling their stories to include their alcohol consumption, even if they suspect food poisoning. Every story holds a clue that will lead to further investigation. When relaying your story about getting sick in the Dominican Republic it is important to detail if you drank liquor from the in-room mini-bar, ordered a drink at the pool, restaurant or bar. How soon after drinking did the symptoms appear, did they mimic intoxication, did your vision become blurry, speech slurred, motor skills impaired or confusion set in are all relevant factors in unraveling the source of these sicknesses and deaths.
A commonality in symptoms can occur from chemicals that are ingested or inhaled. Theories now range from insecticide poisoning, to pool chemicals to methanol poison from counterfeit alcohol.
Alcohol Fraud
There are many forms of alcohol fraud. All have the same intent, to increase profit. One of the most common forms of alcohol fraud, which constitutes most tips that SafeProof.org receives from visitors to the Dominican Republic, is diluting the spirits. This is one of the least offensive forms of alcohol fraud in terms of the health of the consumer.
Alcohol retailers will add water to liquor, diluting the spirit while increasing their profit. Most of the tips received from tourists to all-inclusive resorts concern people who ordered a liquor that tasted watered down. Although it is an economic crime, it is not jeopardizing the health or life of the drinker. It is the first warning sign however, that the liquor protocols of the establishment are suspect. If they are serving watered down liquor, they cannot be trusted, and they may be engaging in other alcohol fraud.
Say Good-Bye to the Upside Down #MiniBar at the Hard Rock #DominicanRepublic the resort is removing the in-room #Liquor Bottles
The second most received tip that SafeProof receives from consumers around the world concerns switching brands. In this practice the establishment will save or procure bottles labeled as a premium brand and fill them with a similar liquor of a lower cost. Again, this is an economic crime, but it does not put health at risk. It should serve as a warning that this establishment is unconcerned about your trust and safety.
The alcohol fraud that affects the health, wellbeing and life of the consumer begins with refilling liquor bottles. Establishments refill name brand bottles or buy counterfeited name brand bottles and fill them with unknown liquids. Often the contents of these refilled liquor bottles are fake alcohol.
Fake alcohol is distilled by counterfeiters to mimic the brand that is on the bottle that they are refilling. Dangerous chemicals such as methanol are often used to create a look alike liquor to fill these bottles. Over the last few years alone, in stories from around the world we have seen fake alcohol made with methanol for its kick coupled with food coloring, spices, and even furniture polish to mimic its appearance. This is where alcohol fraud stops becoming just an economic crime and becomes a crime against humanity.
Methanol Poisoning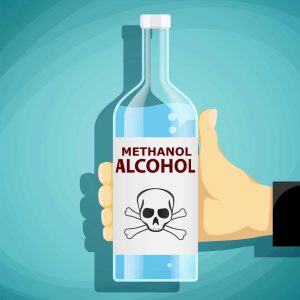 Methanol, which is used in industrial applications including cleaning solvents, windshield washer fluid, as well as racing fuel. It resembles ethanol in taste and intoxicating properties. Unlike ethanol, methanol is not fit for human consumption. The fatal dose of methanol is 100ml, but patients have died after consuming as little as 6ml.
Methanol poisoning symptoms which can take up to 12 hours to present, and 72-96 hours if ingested with consumable ethanol include:
Severe

Stomach Cramps

Diarrhea

Confusion

Blurry and double vision

or loss of vision

Impaired motor skills

Labored breathing

Death from methanol alcohol includes:

Organ Failure

Cardiac Arrest

Pulmonary edema
We Need Your Tips
Safeproof.org receives many anonymous tips from concerned consumers throughout the world about all types of alcohol fraud from fake alcohol to alcohol tax fraud. We welcome all tips whether you are willing to give your name or anonymously.
At this time, we would especially like to hear from anyone who visited the Dominican Republic and became ill or were with someone who died. We are looking to compile a list of commonalities that may point to alcohol fraud.
When sending a tip about the Dominican Republic please highlight:
Dates and where you stayed

.

Did you drink from the in-room mini-

bar?

Did you drink bottled beer along with liquor?

Did you notice any unusual smells or tastes from liquor

poured from

the

in-room

bar

, pool, bars or restaurants?

How long after drinking did you first notice

symptoms

Describe

the

symptoms

Was there anything that made you suspicious of the alcoholic drinks
SafeProof will continue to update this story as information is released, in the meantime, we need your help in gathering a database of facts about your experience in the Dominican Republic.
Each new revelation makes others more willing to share their stories. In the end it may just be a normal death rate from natural causes as the Dominican Republic officials suggest. However, it could also be an unusual bacterium, a viral outbreak, chemical pollution or even fake alcohol.
The mission of SafeProof.org is to raise awareness for Fake or Counterfeit alcohol and to keep liquor safe Search liquor enforcement using our map to keep you and your drinks safe. Report any illicit alcohol activity to us using our secure form or by calling 1 833 SAFE-TIP To get the latest Alcohol Alerts and violation updates in your area Sign-up for SafeProof.org emails and follow us on Twitter and Instagram @SafeProof