March 31, 2018 – Lagos, Nigeria
Benjamin Ojuku travelled to China to study how to make wines and spirituous liquor. The 55-year-old alcohol entrepreneur returned to Nigeria in 2015 to start his business in Nnewi, Anambra state. Mr. Ojukwu was arrested on March 30, 2018 by the Lagos State Police Command for selling adulterated wines at the Ojuwoye market in Mushin.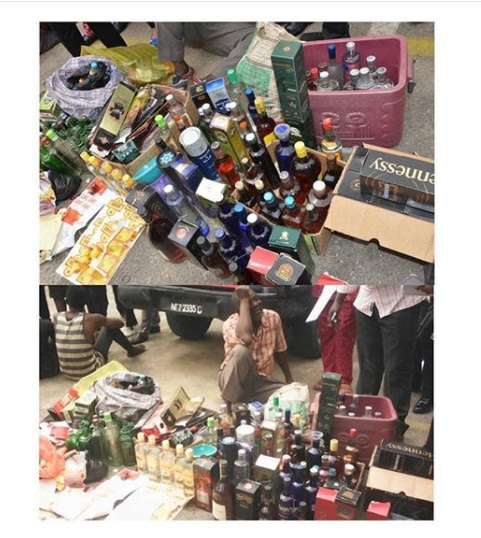 During interrogation Mr. Ojuku revealed his business model to Police. He told police that he learned how to mix and produce wines as well as counterfeit alcohol while studying in China. He planned to bring his skills home to Nigeria and begin his own brand of wine. Unable to find a consumer base for his own brand, Mr. Ojuku applied his knowledge from his studies in China to making imitation name brand counterfeit alcohol.
In his confession to police, Benjamin told of establishing a factory in Nnewi that went on fire, forcing him to relocate to Lagos where he began refilling empty bottles of name brand liquors and selling them at the market place. He told police that he intended to relaunch his own brand but needed the capital he earned from selling counterfeit alcohol.
In an Instagram Post of the fake alcohol in the possession of Benjamin Ojuku, various brands of wine whiskey, vodka and gin can be seen. Obviously, Mr. Ojuku did not have a specialty, rather he counterfeited all brands of liquor and wines. His studies in China gave him a well-rounded education in producing Counterfeit alcohol to the detriment of his marketplace customers.
Police have not yet analyzed the wines that were confiscated during Mr. Ojuku's arrest, he was charged with sale of adulterated wine. To refill the assorted bottles of whiskeys, including Hennessey, that are seen in the Instagram photo, it is safe to say that he used less than authentic products to replicate these brands. Most often alcohol counterfeiters use alcohol substitutes that are unfit for human consumption.
#Counterfeit Alcohol being sold on the streets in Lagos, Nigeria
As the array of fake alcoholic beverages began to surge in Nigeria, Officials of the National Agency for Food and drug control began to take notice and warn of their life threating effects. In an August 2016 interview with the News Agency of Nigeria, the Director for Special Duties, Dr. Abubakar Jimoh warned of the effects that the surge in alcohol consumption has taken on the development of the Nation. "Drinking alcohol is bad enough and people are always advised to take it in moderation; so, the danger associated with taking a fake drink can only be imagined,"
As Nigeria continues to grow economically, so too does the scourge alcohol consumption, making it ripe for those that produce and distribute counterfeit alcohol.
The mission of SafeProof.org is to raise awareness for Fake or Counterfeit alcohol and to keep liquor safe.  Search liquor enforcement using our map to keep you and your drinks safe. Report any illicit alcohol activity to us using our secure form or by calling (833) SAFE-TIP To get the latest Alcohol Alerts and violation updates in your area Sign-up for SafeProof.org emails and follow us on Twitter @SafeProof