August 21, 2018 – Great Wakering, Essex, UK
In April 2013 Cheznye Emmons was travelling through the jungles of South Asia, when the dream vacation of her life turned into a nightmare. Ms. Emmons, a 23-year-old beautician was travelling with her boyfriend Joseph Cook, 21, saving for years to take this dreamed about 6-month adventure travelling throughout Thailand, Indonesia and Malaysia.
As part of their journey they were visiting Bukit Lawang, Sumatra, home to the largest animal sanctuary of orangutans. Cheznye and Joe met another couple who were also backpacking their way around Indonesia. The four bought provisions in the village including beer and a bottle of gin. That night the four were drinking beer and cocktails made with the gin. The other three drank both the beer and the gin, while Chez only drank the cocktails made with the gin.
Hours after consuming the beer and gin, all four felt ill. Cheznye Emmons was feeling the worst, even complaining about blurry vision. As the symptoms progressed, they decided that they needed medical attention.
After trekking to the nearest clinic, Ms. Emmons was referred to a hospital in Medan, Sumatra where she was placed in an induced coma. Ms. Emmons' youngest sister received a phone call from Joe informing her that Chez was in bad shape at the hospital stating that the situation was dire. Cheznye's parents, Pamela and Brenton arranged for a flight from the UK to be at their daughter's bedside. Upon arriving at her bedside, Pamela and Brenton were given a grim prognosis. They had to make the heart wrenching decision to turn off life support. The Methanol from the poison gin that was flowing through Ms. Emmons' body was affecting all her vital organs including her brain.
Investigations later concluded that the bottle of gin was authentic, however, the contents were fake alcohol made with methanol. Cheznye Emmons death was the result of a shop keeper trying to make quick money by refilling liquor bottles with home brewed mixtures that were made with methanol. Consumption of methanol can lead to blindness, organ damage, paralysis and death.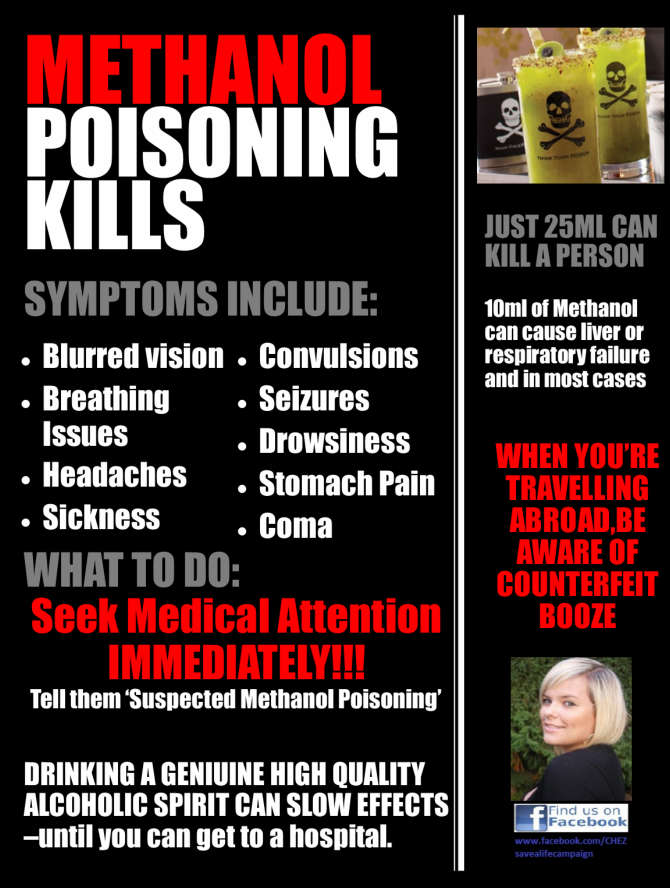 Methanol poisoning alcohol deaths are prevalent around the world, Indonesian has more than its fair share. Fake alcohol producers and distributors looking for a quick profit have no regard for life. In an article in the Daily Mail in May 2013, Mr. Emmons was quoted as saying, "'I would not want anyone to go through what we have been through. 
'If we can save the life of just one traveler by warning them of the dangers of poisoned alcohol then something good will have come out of this terrible tragedy.
'Cheznye was the apple of my eye. She was my little girl and I am never going to see her again. She was a ray of sunshine that would light up any room that she walked into.'
Ms. Emmons left behind three siblings Bianca, then 34, Measha, who was 26 and brother Michael, 33. Since the tragic loss of their sister, they have dedicated their time and efforts into bringing awareness to the evils of dodgy alcohol sellers as well as the dangers of Methanol Poisoning.
The family started the Chez — Save a Life Campaign, they have raised over $20,000 to print and distribute educational posters around the country. Youngest Sister Measha describes how they have hit a stonewall in getting the Foreign Commission Office to help spread awareness of the dangers travelers face from Methanol Poisoning. They were also hoping to have 18,000 posters placed in medical facilities warning of the dangers of methanol laced alcoholic drinks. The NHS cited regulations in their unwillingness to have that accomplished.
Measha continues an indefatigable quest to memorialize her sister by warning others. The Emmons Family wants to scream the warnings of methanol poisoning from the mountain tops hoping to raise awareness to prevent other from the same fate that their beloved Chez suffered. Stymied by Government Bureaucrats, Measha has now taken the next step to challenge the government to act. Measha is seeking a meeting with government officials through a Change.org petition. The attention of the government is necessary to assist in raising awareness of dodgy booze sold around the world including the UK. Measha Emmons in her Change,org summary puts it succinctly when she says, " We have just had 17 British tourists in Zante, scrape by with their life because they consumed drinks containing Methanol and with more countries coming into financial struggle, these numbers will most definitely be on the rise. If these youngsters had seen our campaign or even been informed about the risk's involved, the situation may be very different.
Join the Emmons Family in not only remembering the life of Cheznye Emmons, but in also trying to prevent these same consequences for another family. Sign the Petition at Change.org today in support of the Chez — Save a Life Campaign.
Join them on Facebook at https://www.facebook.com/CHEZsavealifecampaign/
The Chez Save a Life Campaign was created in memory of Cheznye Emmons #ChezSaveLife
SafeProof.org is a consumer advocacy group, funded through donations from concerned individuals, industry groups and alcohol brands. The goal of SafeProof.org is to raise awareness about the prevalence of counterfeit alcohol throughout the world. Our Alcohol Articles highlight alcohol related stories using worldwide news outlets and official government sources. Report any illicit alcohol activity to us using our secure form or by calling (833) SAFE-TIP To get the latest Alcohol Alerts and violation updates in your area Sign-up for SafeProof.org emails and follow us on Twitter @SafeProof also on Instagram @SafeProof