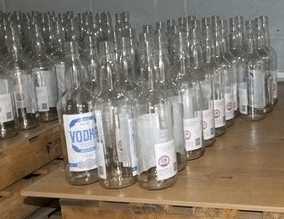 On July 19, 2017, Her Majesty's Revenue and Customs Officers (HMRC) raided a fake vodka factory in Aintree, outside of Liverpool. During the raid, the HRMC discovered a Vodka bottling operation, including a 1000-liter drum suspected of containing fake vodka, a bottling machine, cases of fake bottles, labels and caps. The fake vodka was being bottled and labeled as No 01 Imperial Blue Vodka.
Also discovered in the raid by the HMRC was 80 unmarked cases containing ready to go bottles of No 01 Imperial Blue Vodka. The raid was conducted by the HMRC because of the loss of duty which is uncollected on fake vodka, in this case estimated at £45,000.
Beyond the revenue loss is a much more fundamental problem presented by this fake vodka factory. The quality of the ingredients and additives being used to produce this fake vodka is serious health concern. Angela McCalmon, Assistant Director, Fraud Investigation Service, HMRC, noted that clandestine operations like the one discovered in Aintree can lead to serious health consequences when this fake alcohol is consumed, "Anyone drinking this fake vodka could be risking their life."
As of July 20, 2017, the chemical analysis was not completed on the more than 1,965 liters confiscated in the Aintree raid of the fake vodka factory, but in the past, such as occurred in a similar find in Widnes in 2015 the fake alcohol was found to contain anti-freeze.
The length and extent of the operation was unknown therefore other law enforcement agencies were alerted in hopes of preventing finished and distributed product from reaching the shelves of retail stores, bars and the homes of consumers.
The millions of pounds in revenue loss which operations like this one discovered in Aintree takes money from the public coffers to pay for services of the government, but more importantly it puts the public in the cross hairs of health issues and possibly death
The mission of SafeProof.org is to raise awareness for Fake or Counterfeit alcohol and to keep liquor safe Search liquor enforcement using our map to keep you and your drinks safe. Report any illicit alcohol activity to us using our secure form or by calling 833-377-5040 To get the latest Alcohol Alerts and violation updates in your area Sign-up for SafeProof.org emails and follow us on Twitter @SafeProof
.