Walvis Bay, Namibia – October 30,2017
Customs Officials in the Port City of Walvis Bay, Namibia halted a shipment of Fake Alcohol Brands Exported from USA via Dubai. The destination of the liquor shipment was Zimbabwe. As reported by The Namibian, the shipment was stopped as part of a larger International Customs Operation by The World Customs Organization. This nineteen Customs Organizations were targeting nineteens ports of entry as part of this Operation. Trusted Customs Brokers were inspected as part of this coordinated effort to stop the importation of counterfeit products into Africa.
The Namibian Customs Officials hit the jackpot at one Custom Brokers warehouse when they uncovered fake alcohol valued at $1.50 Million USD. This seizure of a container load of fake vodka and counterfeit whiskey was the largest seizure of counterfeit goods by Namibian Customs Officials this year.
The inventory seized at a customs broker's warehouse included exact replica of brands owned by Diageo, the world's largest International Alcoholic Beverage Distributor. The fake alcohol brands included, Johnnie Walker Red and Johnnie Walker Black Label Whiskey and Smirnoff Vodka, which are among the world's most coveted brands.These fake alcohol brands exported from USA might be the tip of an iceberg. A lawyer for Diageo, Paul Ramara said that legal action would be taken against both the Counterfeiter who was to receive the dodgy booze and the Custom's Clearing House where it was stored. Customs Officials who were part of this special operation also noted that there is an ongoing investigation concerning the customs agents at the Walvis Bay Port of Entry.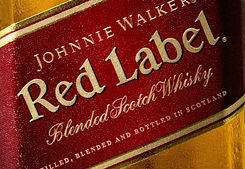 What was not discussed in any of the official statements or by any news accounts of this seizure of perfectly replicated Smirnoff Vodka, and Johnnie Walker Red and Black Label was the investigation of its origins. It was noted that this shipment of dodgy booze was shipped to the Walvis Bay Port from Dubai, however, that was not the origin of this consignment. The Consignment of Fake Alcohol had a US Port listed as the origin of this shipment. There was no comment made concerning the United States Origin of this shipment.
A shipment this large, and this well-made would indicate the United States has a fake alcohol problem on a scale as large as that which has been reported throughout the world. This shipment of Fake Smirnoff, and knock off Johnny Walker had it all, counterfeit liquor bottles, replica caps, printed cases and forged documents, indicating that there is a large ongoing counterfeit liquor operation present in the United States which may be supplying other parts of the world, at least Africa. For years other Nations have been publicizing their raids and arrests on fake alcohol production facilities, while the United States has had no such stories breaking in the News. While the rest of the world has actively pursued and publicized counterfeit alcohol producers, the United States has remained quiet.
Counterfeit Johnnie Walker valued at $1.5 Million USD originated from USA port
Judging by Statement from Officials and the people of Zimbabwe, this shipment is not the first of its kind. this may be only one of many shipments of fake alcohol brands exported from USA The Daily Mail spoke to Biggie Chinoperekwei, who runs several nightclubs in Harare, the destination listed for the seized shipment, "the health of our citizens is also at risk. We wonder where some cancers come from, yet there are products like these that do not undergo proper standards monitoring. We urge drinkers to shun the illegal dealers and buy from certified distributors because we only buy from genuine distributors of these products. That is the best way to protect one's health and to put these fraudsters out of business."
An Illegal alcohol dealer anonymously told the Daily Mail, "On closer examination of the bottles, you will notice things like mis-spellings and logo differences. The labels do not look quite right. The colour of the liquid sometimes is not quite the same as others.
"Others also have froth, and cap seals are tempered with," he said, adding, "As dealers, we have to protect ourselves from copies because once one client exposes you as a distributor of fake stuff, you will be put out of business because no one will buy from you."
He went on: "The fake products are there, there is nothing we can do about it because they are cheaper and most people that buy them know this."
The most shocking quote obtained by The Daily Mail on the streets of Harare was from an Executive in the Hospitality Industry, "the formula for making these things is out there. Those products you say are fake are the same as the product you say is genuine. The difference is the price only and, in some cases, spellings. They taste the same. I want the fake product; it is cheaper, and that means we make more money"
This honest quote by the Hospitality Executive amplifies the mission of SafeProof.org. If this Executive is willing to buy fake alcohol because "we make more money", think about all the other owners of small bars, pubs, and nightclubs who would be willing to do the same. As we have already seen, and this Executive reinforces, even large multinational corporations were serving tainted alcohol in Mexico and are willing to buy and serve fake alcohol to benefit the bottom line of their companies.
The mission of SafeProof.org is to raise awareness for Fake or Counterfeit alcohol and to keep liquor safe Search liquor enforcement using our map to keep you and your drinks safe. Report any illicit alcohol activity to us using our secure form or by calling (833) SAFE-TIP To get the latest Alcohol Alerts and violation updates in your area Sign-up for SafeProof.org emails and follow us on Twitter @SafeProof